Press Kit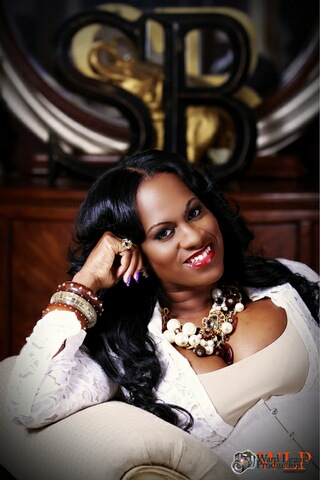 Shannon Bellamy
Author, Playwright, Producer, Entrepreneur, Mentor, Motivational & Career Speaker
856-324-4342
Shannon Bellamy is an Author, Entrepreneur, Business Owner, Motivational & Career speaker and Mentor. Currently she has completed her first book "Pimps in the Pulpit" that is just the beginning she is slated to release several other titles to include the sequel to "Pimps in the Pulpit", "Breaking the Silence" January 2013. Her passion is being able to encourage and motivate others for change and growth in order to visualize the gifts inside so that they can be a blessing to others. Her interactive approach will keep her audience actively engaged and craving for more. Shannon has also received "Excellence in Management and Leadership" awards. She has a powerful story with hope, courage, determination, hustle, faith and substance.
Testimonial
Ms. Bellamy you spoke at my son's high school today, and he said you were the best speaker there. You captured their attention, you were funny and real. He absolutely loved your wit, your story, your strength and drive. He also wants to become a gourmet chef one day – so we all must meet one day. When he started speaking about his day, he told me out of all of the speakers, you captured his attention (and most of the other students, as well). I pray that God continues to bless you with all his love, peace and joy for the rest of your life!!! Thank you. Shannon
~~~Tanique Lane-Mitchell~~~ Freire Charter High School Career Day
Shannon Bellamy has enjoyed a successful career as an executive assistant, real estate sales professional, gourmet chef and author; she is also a single parent of four. She is grounded in her faith, has strong family values and has the gift of being an encourager with the belief that we are what we believe and therefore, we must speak positive into our lives and into the lives of others so that we can expect positive outcomes. With cutting-edge dialogue, creative interaction she is definitely an awesome mentor and speaker; having the ability to instantly connect with her audience especially the youth makes her in high demand to speak at schools and other programs with youth, teen mothers, high school dropouts and domestic violence victims just to mention a few.
Shannon aspires to speak at high schools, universities, faith-based platforms, professional settings, women's conferences, and correctional facilities with diverse topics nationally. She has always been one who motivates those within her circle of influence. Shannon is clearly a leader, survivor and determined to succeed; all of her peers seek her out for advice and encouragement. When you meet Ms. Bellamy you're guaranteed to hear her bubbly, never give up, been up all day and ready for the world "full of life" voice.
Having gone through some of life's most challenging trials and tribulations and triumphed over them, some invoke uncontrollable laughter while others may cause you to break out in tears. Whatever the case, the audience will be left with a memorable experience from a gifted, energetic, charismatic and compassionate speaker with a radiant smile, who can captivate an audience leaving them feeling refreshed, refueled and motivated to conquer the world, whether physically, emotionally or spiritually. Artfully blending spiritual teachings with heart-wrenching personal stories, she openly shares her personal experience with overcoming disempowerment issues such as sexual abuse, poverty, domestic violence, and lack of education to illustrate a revolutionary approach to self-help. Shannon has "repositioned" herself and is in a safe place within.
Shannon believes in strengthening the esteem of women while erasing stereotypes, and has committed the use of her voice to that end – with her savvy business brawn she believes there is nothing she cannot conquer! Wherever she goes, Shannon exhorts and encourages her listeners to deepen their intimacy with God and to rise to their divine calling and destiny. For anyone who feels unworthy of love and ashamed of their past and perhaps their present! Her words bring strength, hope and restoration to lives. Allow Shannon Bellamy to help you discover your inner you and guide you to your road to "Excellence"!
Shannon Bellamy has appeared on the national syndicated Michael Baisden Show and a host of other radio programs and speaking engagements below is a complete list.
Who is Shannon Bellamy?
Who is SHANNON BELLAMY? Having gone through and triumphed over many of life's ordeals, Shannon Bellamy has unequivocally established herself as a true Lady of Substance. She has reclaimed her traditional core values and has not let her past hurts, setbacks, or painful experiences change the dynamics of who she is as a person.
After having wrote a book that shocked church folks nationwide she has come back and reclaimed her life and continued on her path to being a successful entrepreneur. A woman who is truly determined to succeed she is empowering others and teaching them to think beyond today and build wealth for tomorrow.
The Boss Lady of New Jersey….Entrepreneur, Business Owner, Personality, Author, Playwright, Producer, Director, Notary Public, Marketing Extraordinaire, National Motor Club of America District Manager, Traci Lynn Jewelry Consultant, Princess Arielle Raw Virgin Indian Hair Specialist, 5Linx Business Partner (coming soon Insurance Agent and Public Adjuster)…. a place where Entrepreneurs can network, brainstorm, barter and learn from some of the best in the industry.
A series of trials and tribulations have uniquely prepared Shannon to tackle and subsequently overcome some of life's most insurmountable odds. She has endured a multitude of adversities particularly during her formative years, ranging from the untimely death of her father at the tender age of 33, to the various encounters of sexual and emotional abuse at the hands of trusted individuals. Many of these unfortunate experiences of victimization have followed her into adulthood. However, with a strong faith in God and relentless tenacity Shannon has learned that you can rescue yourself from the dungeon of despair, and be placed on a road to glorious redemption.
Further displays of Shannon's spirit of resiliency are connected with the progressive steps she's taken toward improving herself by returning to school in order to advance her education. Being a mother of four children has truly made Shannon realize the importance of promoting education by example. She obtained a GED certificate at age 32, and graduated from Bergen Community College in 2004 with a degree in Culinary Arts. She is currently pursuing a bachelor's degree with aspirations of developing numerous business ventures including a Marketing Firm, Supper Club and Day Spa.
Shannon Bellamy is the author of the book entitled "Pimps in the Pulpit" and upcoming sequel "Breaking the Silence" no more secrets. She tells her true story about her experience in the hands of a Pastor of a Mega Church in the hopes of empowering other women who have been manipulated or misled into inappropriate relationships with someone they've trusted.
Shannon Bellamy's mission is to will ENCOURAGE, INSPIRE & EMPOWER.
RADIO APPEARANCES AND SPEAKING ENGAGEMENTS
"Pimps in the Pulpit segment"
August 5, 2009
Solomon Williams
WNWR 1540 AM "Kat w/ the Hat Kalendar" Philadelphia, PA
August 6, 2009
Keith & KeeKee
WURD 900 AM "The Streets are Talking" Philadelphia, PA
August 12, 2009
The Writers block
SVMIXRADIO.COM
August 19, 2009
National Association of Black Female Executives in Music & Entertainment
(NABFEME) Philadelphia, PA
Guest Speaker
August 20, 2009
Trina Stackhouse
Pillow Talk for Grown Folks Atlanta, GA
August 22, 2009
Ericka M. Williams
OnThaMoveRadio.com
August 26, 2009
TE! Talks
Blog Talk Radio (Part 1)
September 2, 2009
DJ Lisa Love
WPEB 88.1 the Remedy Radio Show Philadelphia, PA
September 3, 2009
Jeff DeVose
smackthattalkradio.com
September 17, 2009
The Foundation w/ The Boogey Brothers
Voltaradio.com
September 21, 2009
Julee Jonez
WPRS 103.3 Jamz Kansas City, MO
September 28, 2009
Kristy "Miss Thang" Burgess
WHT-FM HOTT 107.5
September 28, 2009
Charlemange
100.3 The Beat Philadelphia, PA
September 29, 2009
Sauvv
Blog Talk Radio
October 13, 2009
The Connection w/ Kamal Talk Show
Cable TV
October 26, 2009
TE! Talks
Blog Talk Radio (Part 2)
October 28, 2009
Streets of Hard Knock Life w/ Host Cynthaya Johnson
WPHATV.com
November 2, 2009
Love Chloe
Blog Talk Radio
November 16, 2009
T-Tyler Talks
Blog Talk Radio
November 20, 2009
Your Money & More w/ Host D. Alexander Washington
WNJC 1360 AM
January 10, 2010
Dedan Tolbert Talk Show
Blog Talk Radio
January 16. 2010
Freire Charter High School Career Day
Philadelphia, PA
January 20, 2010
Essence of a Woman's Summit
BlogTalk Radio
May 3, 2010
JONESY in the Morning (Miss Jones) *3hr. interview
Power 99, Philadelphia, PA
May 19, 2010
JONESY in the Morning (Miss Jones) *3hr. interview
RE-AIRED
Power 99, Philadelphia, PA
May 21, 22 & 24, 2010
In Your Eyes
Blog Talk Radio
July 29, 2010
***************************************
Interviews also done by:
Sister 2 Sister Magazine
Philly Fun Times Magazine
"PIMPS IN THE PULPIT" STAGE PLAY
Temple Performing Arts Center
Liacouras Center
Philadelphia, PA January 2010
The Movie
"Breaking the Silence"
Coming Winter 2013
NEWSPAPERS
BERMUDA SUN
September 23, 2009
"Married pastor accused of affair with parishioner"
http://bermudasun.bm/Main.asp?SectionID=24&SubSectionID=270&ArticleID=42899
Philadelphia Sunday SUN
Jan 11, 2010 *article enclosed
'Pimps in the Pulpit':
One woman's journey through hell becomes a matter of controversy
http://www.philasun.com/news/46/19/Pimps-In-the-Pulpit-One-woman-s-journey-through-hell-becomes-a-matter-of-controversy.html
TRIBUNE
February 5, 2010
On the QT in Philadelphia
http://www.myvirtualpaper.com/doc/the-philadelphia-tribune/pt020510/2010020501/9.html
TRIBUNE
June 9, 2010
West Philly Metro Edition
Controversial author plans abuse book sequel
http://www.phillytrib.com/tribune/phillynewsheadlines/12341-controversial-author-plans-church-abuse-book-sequel
Philadelphia DAILY NEWS
June 24, 2010
COVER STORY
http://www.philly.com/dailynews/local/20100624_Tawdry_truth_or__Pimp_ing_a_ride_.html
ANOINTED NEWS JOURNAL
June/July 2010
Contact Ms. Bellamy at: info@shannonbellamy.com
www.twitter.com/shannonbellamy
www.facebook.com/shannonbellamy
www.youtube.com/shannonbellamy
Available to speak locally and nationally
* High Schools
* Detention Centers
* Conferences
* Seminars
* Support Groups
* Women Groups
* Church Events
* Book Signing
* Book Clubs
Shannon Bellamy Enterprises
PO Box 853
Sicklerville, New Jersey 08081
856-324-4342